Okanagan Indian Band (completed in 2001)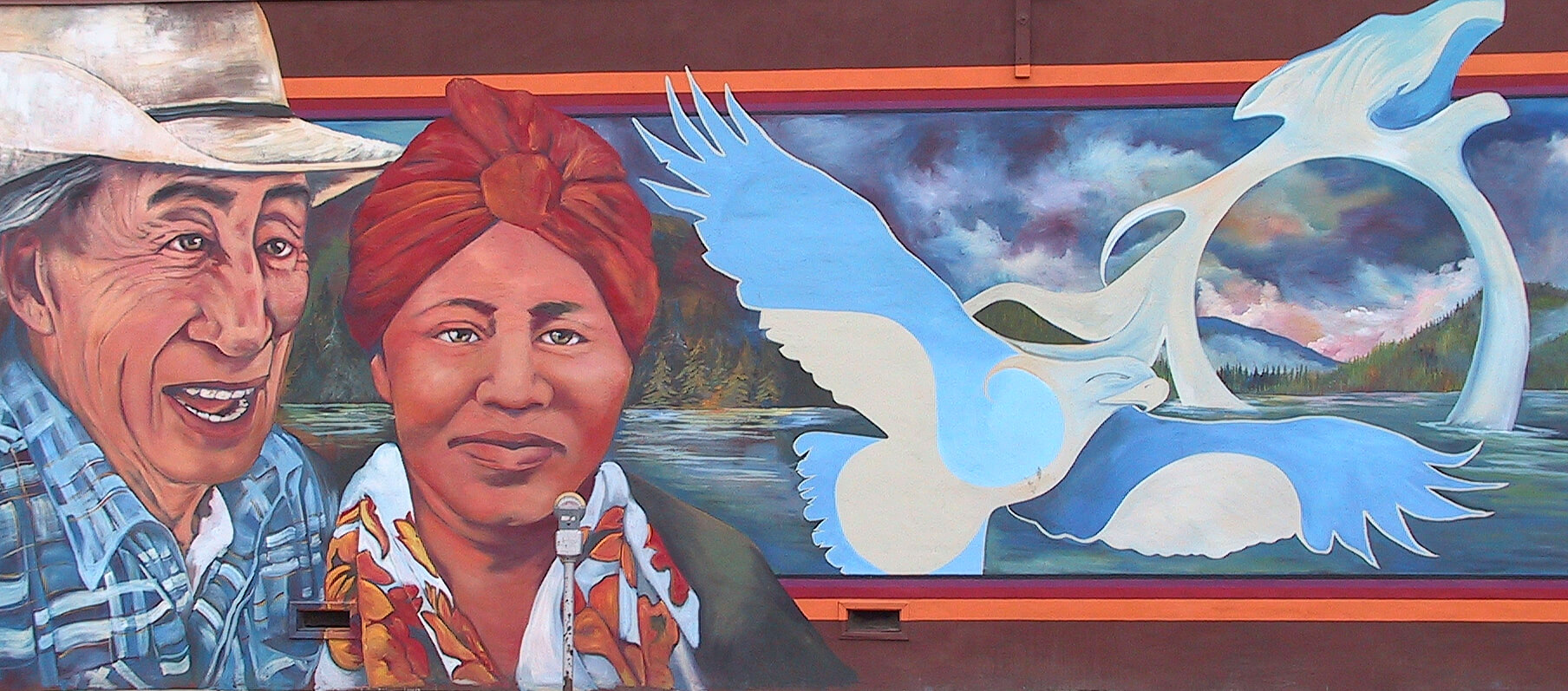 Vernon is located on traditional Okanagan territory, and this mural is in honour of the rich aboriginal culture that Vernon is steeped in. Okanagan is the "Anglicized version of Suqnaqinx and refers to the Indigenous people of the Okanagan territory, it translates as ―takes to the head or mind" (Cohen 2010: page xiv). The early 1800s was the time of first contact between present day Okanagan Indian Band memberships' ancestors and European fur traders. As a matter of fact, the present day Westside Road is situated both on and adjacent to the Okanagan Trail that is widely known as the Hudson's Bay Brigade Trail. From the perspective of the Okanagan people, the name, Hudson's Bay Brigade Trail is not an accurate name; rather, present day Okanagan members call the Okanagan Trail, Nkwala's Trail. Chief Nkwala, was not only an Okanagan Indian Band Chief, he was also an important Okanagan Nation Chief whose life is chronicled from adolescence by George Dawson and through adulthood until his death in 1859 by the Hudson Bay Company fort journals.
This mural portrays two of the most significant animals in aboriginal culture – the eagle, considered to be the animal closest to the creator, which represents courage, spirit and bravery. And the wolf, a symbol of teachers and pathfinders, who has a strong sense of family while maintaining individualism. The middle shape is the spirit of the lake and its legendary creature the Ogopogo, or n'ha-a-itk in Salish.
On the left side, the man with the cowboy hat is a well-known rodeo rider Tommy Gregoire. On the right side, the woman beside the horse represents the strength of women, and the people in front of her are the Chief of the Okanagan Indian Band from 1932-59, Pierre Louis, and his wife.