The Downtown Vernon Association is funded by a commercial tax levy on properties within the Business Improvement Area. This levy is a means of ensuring a secure and equitable financial operating base. The levy is similar to the promotion and maintenance fees per square foot of lease space assessed by shopping malls.
However, the mandate of the Downtown Vernon Association is considerably larger and multi-faceted. While the investment is comparably small, the results are noticeably significant.
The BIA is divided into a primary and secondary area as shown on the map. The primary area (purple) has a slightly higher levy assessment than the secondary area (brown), based solely on proximity to 30th Avenue (Downtown Vernon's main street). Primary properties have the additional benefit associated with the numerous events held on 30th Avenue, tourist attractions and additional street maintenance.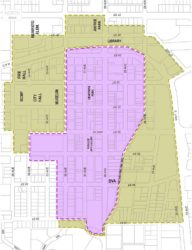 Grow your business Downtown!
The Downtown Vernon Association wants your business to flourish. Vernon has a number of resources for new and existing businesses including;