Vernon Fire Brigade (completed in 1999)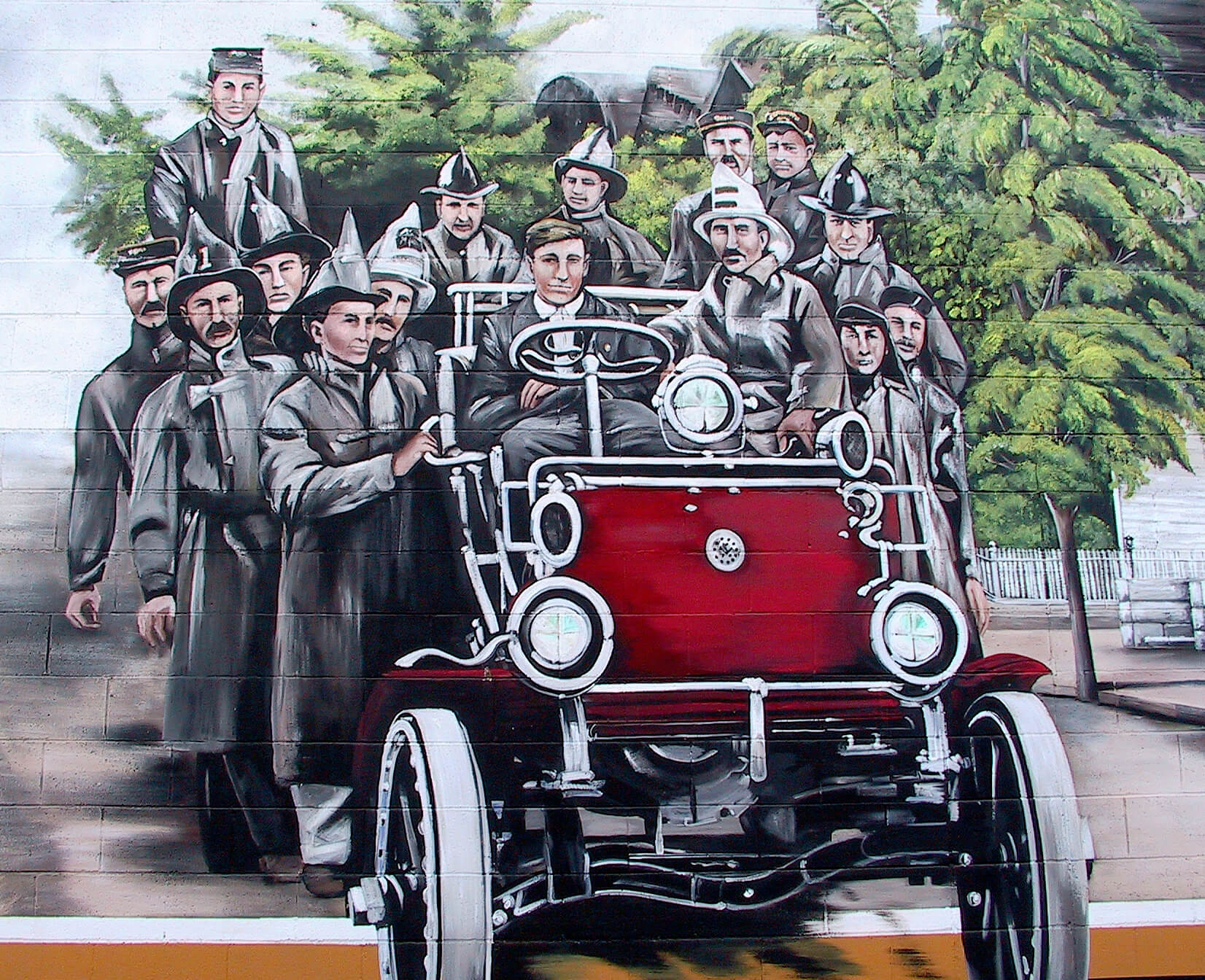 The original brigade only had leather buckets to fight fires. However, the insurance companies of the buildings that the brigade protected found the bucket service to be sorely lacking. To ensure a basic level of fire protection, a pump engine was purchased second hand from San Francisco. The new fire engine had to be hand drawn and hand pumped, which soon became the best way to get your exercise in Vernon. Everyone was eager to join the brigade and be one of the twelve men needed to operate the pump (6 on each side). The fire brigade eventually upgraded to a motorized engine, where at first horse teams would race the fire engine to the fire, and the horses won every time. The horses also drew some of the pumps behind them. At the sound of the alarm the horses would come out of their stalls and stand underneath the harnesses which dropped down on them.
Another interesting note is that the Fire Brigade organized many successful parades and sports events, their motto being: "Better than Ever". Also, when the City Band lost their instruments in a fire, the fire brigade took over sponsorship and the band was known as the Vernon Fire Brigade Band as they played at provincial exhibitions and throughout town.
The man on the left is James J. Hull – the 1st fire chief of Vernon. He was chief from 1899 until 1903. He was survived by his wife and their nine children. His youngest daughter is still living in Vernon today. She is extremely happy with her father's portrait and she believes the muralist captured the exact blue of her father's eyes. The man who replaced Hull in 1903 is the gentleman on the right hand side of the mural – Thomas Crowell. The yellow building in the background of this mural is Vernon's original federal building and post office. Remnants of the old clock on top of the post office can be found in the Vernon Museum today.