The Captive Artist (completed in 2010)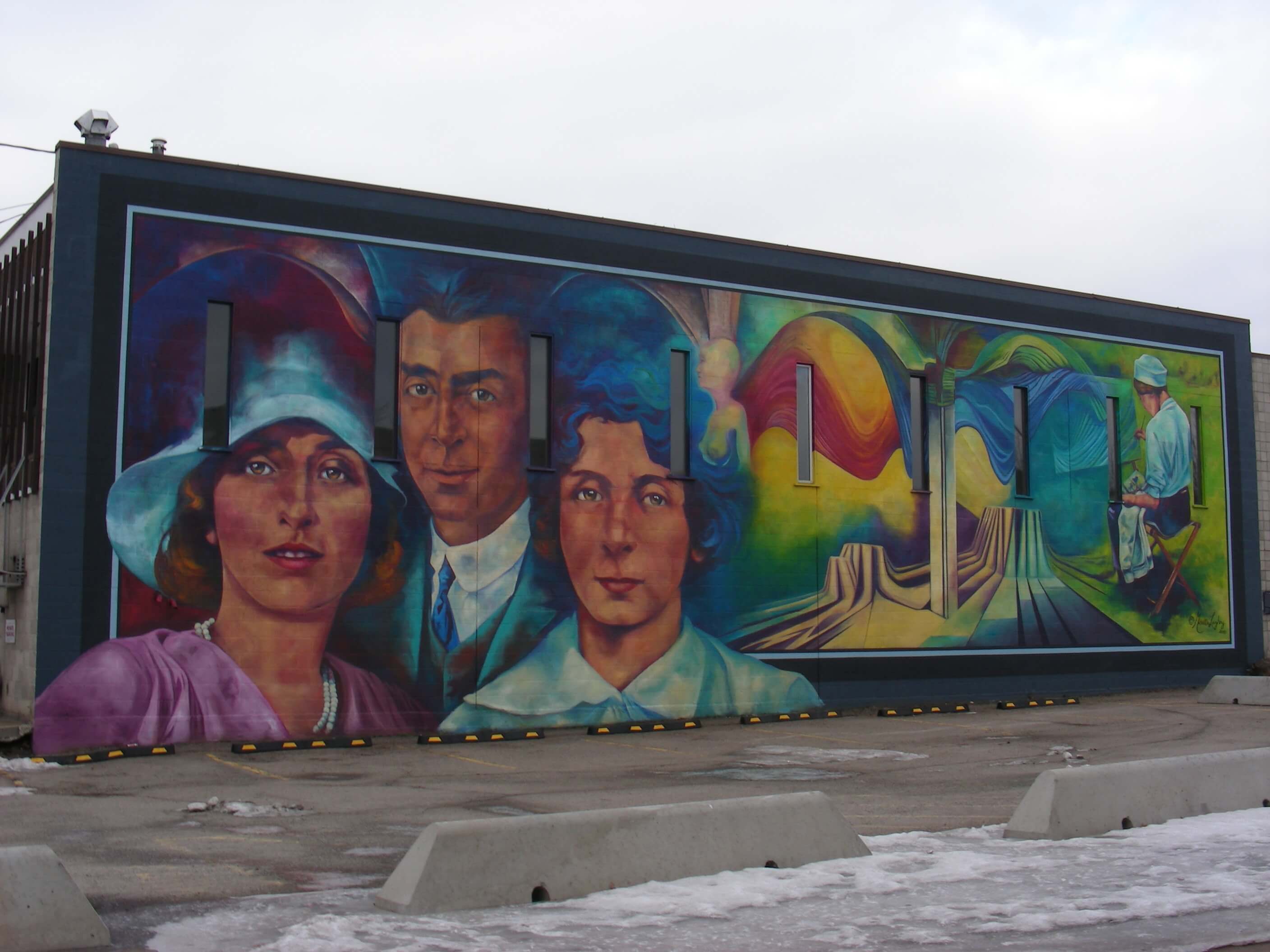 This mural, completed in 2010 is titled The Captive Artist. It depicts local artist Sveva Caetani, born Sveva Ersilia Giovanella Maria Fabiani, hard at work. Sveva Caetani came to Vernon from Italy in 1921 at the age of 4 with her father Leone Caetani— Duke of Sermoneta and Prince of Teano, and her mother, Olfeia Fabiani. Leone Caetani—with a noble background that went back to the Roman Republic and included former popes–-fled post-war Italy due to the dangers relating to the rise of fascism. The Caetani's made it to Vernon safely, and bought a home in the neighbourhood of East Hill, and began their new life. They made frequent trips to Europe, where young Sveva was able to learn the art of painting from a highlyrespected tutor.
Sadly in 1934, Sveva's father passed away when she was only 18, and her mother Olfeia suffered both physically and mentally. Choosing to live a reclusive life, Olfeia forced Sveva to remain in their home. In the beginning Sveva wasn't even allowed outside, until on the advice of a doctor and -due to a near mental breakdown- she was allowed in the fenced off garden.
Sveva was allowed only to read while under her mother's mandated captivity, as for some reason Olfeia found the idea of painting or other artwork to be threatening. Sveva tried to paint in the 1950s however her mother's protests finally dashed her work until her mother's death in 1960. By 1978 Sveva began a catalog of 56 spectacular watercolours that reflected the story of her life.
As well as being a talented and respected artist, Sveva also became a local teacher after her mother's death. She became a French teacher at St. James School where she remained for 5 years. In 1965 she attended the University of Victoria to get her high school diploma and her teaching certificate. She completed her education in 1972 and began teaching at Charles Bloom in Lumby where she stayed until her retirement in 1984.
Upon her death in 1994, Sveva Caetani left her home and property to the City of Vernon to be used for the benefit of the arts in the community. Today the building contains 4 apartments for the purpose of housing deserving artists. In fact the lead artist for most of the murals, Michelle Loughery, once lived in the residence, and the painting holds special significance for her and the community in this respect.