In Memory (completed in 2001)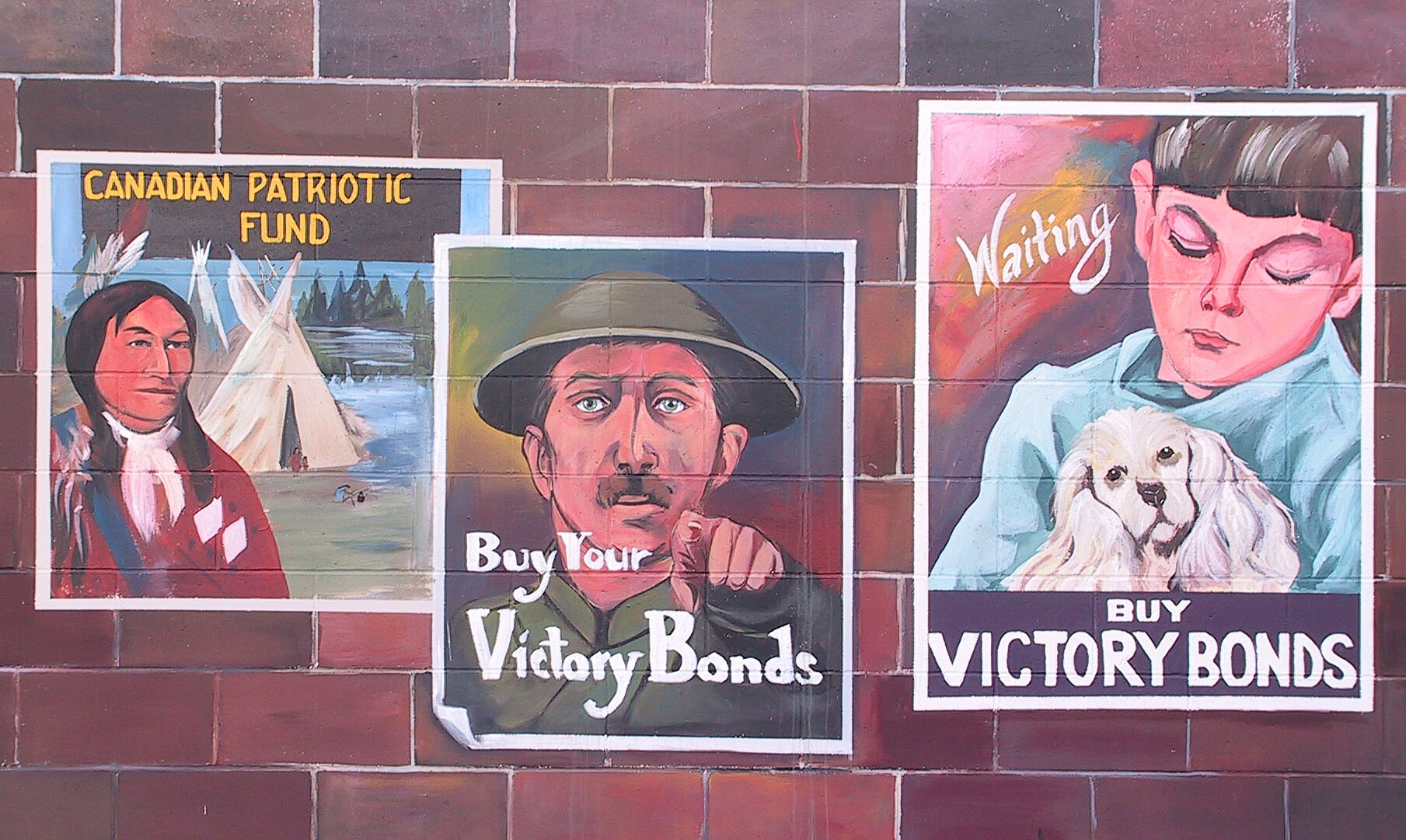 Time spent in Cenotaph Park is meant for reflection. The mural and Cenotaph are monuments in memory of those who sacrificed themselves in the name of freedom. Starting on the left side of the mural, the large soldier represents the Korean War. (1950-1953). This image is based off of a photograph entitled, "Faces of War," which was taken by public relations photographer, Sgt. Paul J. Tomelin. At the time of the photograph, the soldier was waiting for medical attention after a night patrol near Hill 166—the site of a daring Canadian commando raid.
The next scene in this mural represents the combat that all soldiers of all wars had to engage in. Behind these scenes flies the Union Jack – the flag of the United Kingdom. Canadian soldiers in the first and Second World War technically fought under the Union Jack, as we fought for the Commonwealth of Nations.
We were not able to have all divisions of the Canadian armed forces in our murals, so we would like to pay special tribute to the Canadian Women's Army Corporation who made valuable contributions to Canada's war effort. Further to the right, the mural shows the importance of the home front. The Red Cross was a common sight in Vernon, trying to recruit more volunteers for the war effort; they would also send bales of "field comforts" overseas that included hand knitted skirts, socks, scarves and mitts.
The different posters in the murals along the right side illustrate the different recruitment efforts, victory bonds, and shop advertisements. In the center of the park is the Cenotaph. The part of the memorial facing away from the cenotaph is covered in poppies – the international symbol of remembrance. Below the poppies are lines from the poem "In Flanders' Fields," written by Lt. Col. John McCrae.