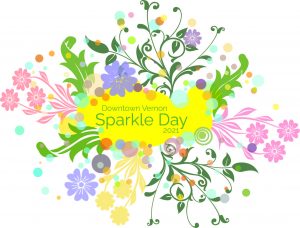 Downtown Vernon | Sparkle Day
A fun little history fact: The Downtown Vernon Association held its very first Sparkle Day on March 29, 2000. While merchants within the BIA's clean and maintain their property on a daily basis, Sparkle Day is a special one-day blitz where extra efforts are taken to shake off the dust from winter. Sidewalks will be pressure washed between April 19th-20th by MTS Pressure Washing and Venture Training will be out cleaning up flower beds.
Sparkle Day, taking place on April 22 in conjunction with Earth Day, is an opportunity for businesses to work together to create a safe, inviting, and clean environment for people to visit. Picking up litter, cleaning up the back alleys, polishing businesses facades, and making seating areas free from debris is a low-cost way to improve downtown's curb appeal.
While business and property owners work to clean up their spaces, we encourage visitors to help keep the downtown core clean all year long by using the many available garbage receptacles and ashtrays. Since February, the DVA has picked up well over 100 used masks that have been thrown onto the road and eventually end up going down storm drains.